Hydroalcoholic Surface Cleaner
CLEANS ALL TOUCH POINTS
Wynn´s Sani Safe Hydroalcoholic Surface Cleaner is specially formulated to clean different surfaces present in the interior/exterior of the vehicle, including the dashboard, steering wheel, gear lever, exterior and interior handles, buttons and touch screens, mirrors, keys, handbrake, glove compartment, etc.
For use on plastics, metals, glass, and most hard surfaces. Also effective in the synthetic textile part of the vehicle (not recommended for regular use on leather and Alcantara fabrics).
Hydroalcoholic formulation, above 85% of alcohol
Cleaning sensitive surfaces without scratching
Free of ammonia and perfumes
Removes all contamination and cleans thoroughly without leaving residue
Formulated with a specific Anti-Static agent to prevent or minimize the accumulation of contamination on surfaces.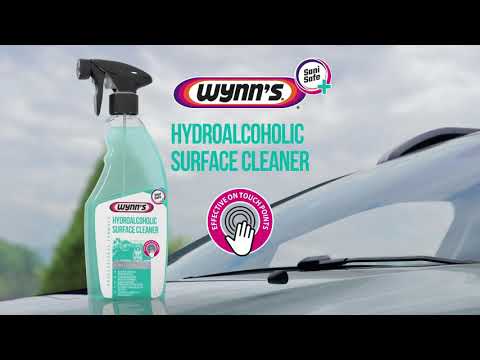 Watch the video